About Lyn Constable Maxwell, MRBS

"Lyn Constable Maxwell responds  equally to the inner and outer worlds with a most sensitive awareness of their relationships. This intuitive perception is the outstanding quality of her drawings from life and her sculptures. Intense interest  in the object which engages her feelings imbues her work with a deep compassion, as well as an understanding of rhythm as the basis of life, and of the essential bond between man and nature."
Anne Baring, Lecturer in Art and Psychology, author of the Myth of the Goddess.
Following an overland trip to India in 1969 I became influenced by humanitarian issues and many of my subsequent commissions reflect this, notably, Famine 
(Red Cross Museum Winchester) The SANDS memorial, and the Aberfan memorial,
The  patronage of the church, historically the great  patron of sculptors, has been an enabling influence for my work. The sculptors role in producing a memorial is a very sensitive task, both a privilege and a responsibility., and I try to interpret the wishes of my commissioner both architecturally and imaginatively. 
When I am teaching , I encourage my students to develop their own style, whilst giving them a firm grounding in traditional methods.  I organise trips to the Talos bronze foundry to demonstrate the lost wax process.
My work includes a series of Shakespearean images inspired by my drawings, slightly more abstracted, and made using a steel and aluminium armature covered with mixed media materials which are then coloured.
This has resulted in a marriage of sculptural form and subtle
colour. 
I continue to work on public and private commissions alongside my evolving  Shakespearean collection.

I am a member of the Royal Society of British Sculptors.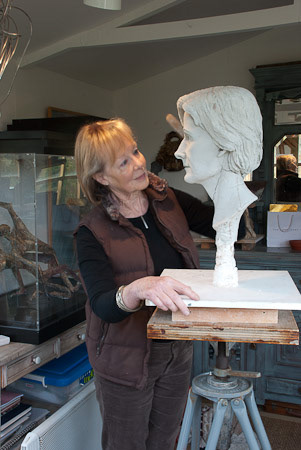 Lyn Constable Maxwell, MRBS    CV


Born 1944 ,married ,1963. Kit Constable Maxwell (photographer) has two sons and a grand daughter. 
Studied Fine Art at The Byam Shaw School of Art
Sculpture at The Hammersmith College of Art and Building
The Heatherley Art School studied under Cubitt Beavis
Associate Member of the Royal Society of British Sculptors 
1965 overland trip to India .resulting in First limited edition bronze " Nepalese Mother and Child"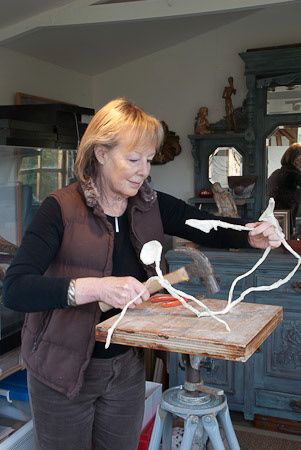 Awards and appointments;-
----------------------------------------
Concourso Internationale di Pittura Venice . Diploma .
1993 Prince of Wales Award for the Aberfan Memorial
1992 Artist in residence Winchester Cathedral
1996 Artistic advisor for Portsmouth Liturgy Commission
Lecturer Barbican centre " Memorials and letter Cutting "
2009 Associate member of Royal Society of Authors
Written articles/reports for Church Building magazine 1988 /90
Teaching at Winchester Cathedral during residency. Workshops for groups of adults and children in U.K. and France, Individual coaching for G.C.S.E. students,
Group exhibitions include;-
----------------------------------------
Wessex Fine Arts
Medici Galleries
Southwell Brown Gallery Richmond
The Tempra Gallery Connaught st.
The Royal Society of British Artists. Mall Galleries
The Richmond Gallery Cork street
The Cider house Gallery
Barbara Hepworth and artists of Burleighfield
Grey's Gallery Yorkshire
Gallerie La Passerelle Tours France
Ewhurst Gallery Berks
The Alresford Gallery Hants 1989/ 90/ 91
The Edith Grove Gallery
The Garden Gallery Broughton Hants 1988/90/ 91
St. Botolph's Church. Aldgate
Winchester Cathedral – Making and Praising
St Cross Chapel Winchester.
Solo Exhibitions
-----------------------------
The Bury Street Gallery St James London 1973
The Newbury Festival . Berkshire 1988
The Bury street Gallery London. 1981
Winchester Cathedral 1991
Winchester Cathedral 1997
The Beacon Gallery. Berkshire.2009
---------------Public commissions------------------------- 
1989 Stations of The Cross. St Gregory's Church Alresford Hants.
1984 Eagle trophy for the Scottish Businessman's Award of the year, sponsored by Justerini and Brooks
St. Michael.  St Michael's Mount, Cornwall. National Trust.
The Aberfan Memorial. Memorial Gardens,South Wales.
Risen Christ St Gregory's Church Alresford Hants.
Thomas Pinsent Memorial,  Holy Trinity ,Blendworth Hants.
The Four Evangelists .St. Michael's  Church, North Cadbury, Somerset.
Baptismal font. R.C. Church Ringwood Hants.
Famine. The Balfour Museum Winchester, Hants.
John Keats. The Gordon Museum. London.
Mother and Son. St Mary's Upton Grey. Hants.
The S.A.N.D.S. Memorial (Stillborn and neo-natal death support group)  Southampton.
Crucified and Risen Christ. SPEC centre, All Saints London Colney.  Second study, SPEC east. 
Private commissions, limited edition bronzes, drawings and paintings, are in collections in the U.K. Switzerland. USA. and France.
Current project. A series of Shakespearean figures made in mixed media. ( first part of collection exhibited in Tours France, Gallerie la Passerelle 2009)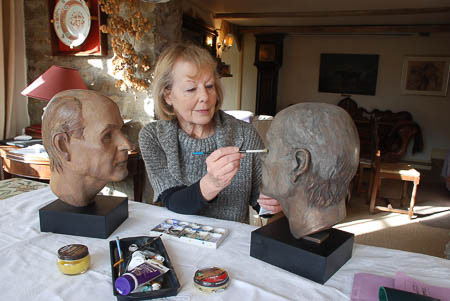 Lyn's powerful sculpture "Famine", depicting a starving mother and child (pictured, right) is held in the Red Cross's permanent collection. It is currently featured on their
 website>>>